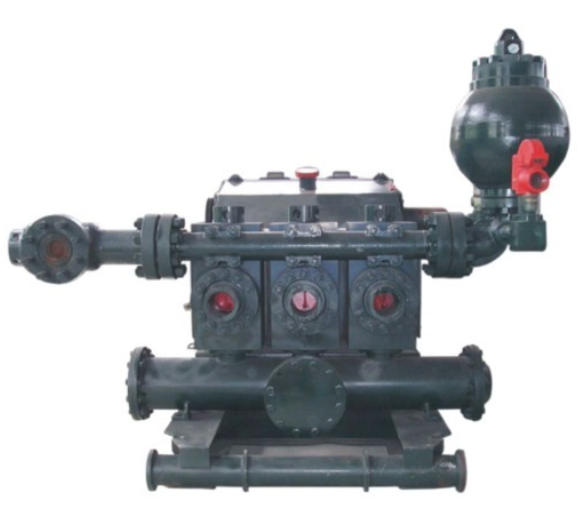 F series mud pump is applicable to the requirement of high pump pressure in oilfield and high displacement technology of well drilling with its solid and compact structure, small volume and outstanding operation performance.
F series mud pump has long stroke maintaining operation at lower frequency resulting in enhancing the performance of giving water effectively and prolonging the lifetime of the consumable hydrokinetic parts. The air-suction kit is advanced in structure and reliable at operation to reach the optimized absorbing target of air suction into line pipe.
F series mud pump powering side adopts the combined lubrication of forced and splashing lubrication featured with reliable lubrication and adding the operation lifetime of powering part.
This series pump is widely used in oil field and other lines of industrial and mining enterprises, operation of drilling well and well repairing etc.
This series pump is produced strictly according to API Spec 7K "the Equipment Specification of Well Drilling and Repairing", and performed the EX-Work test under the specification thereof.
Specification:
Model

F-500

F-800

F-1000

F-1300

F-1600

Type

Triplex Single-Acting

Rated Power (HP)

500

800

1000

1300

1600

Strokes per minute

165

150

140

120

120

Stroke Length (in)

7 1/2"

9"

10"

12"

12"

Max. Liner Dia (in)

6-3/4"

6-3/4"

6-3/4"

7"

7"

Gear Type

Herringbone Gear

Valve Pot

API-5#

API-6#

API-6#

API-7#

API-7#

Gear Ratio

4.286:1

4.185:1

4.207:1

4.206:1

4.206:1

Dia of Suction Inlet (in)

8" Flange

10" Flange

12" Flange

12" Flange

12" Flange

Dia of Discharge Outlet

4"Flange
5000psi

5 1/8"Flange * 5000psi

Dia. of Pinion Shaft (in)

5-1/2"

7"

7-3/4"

8-1/2"

8-1/2"

Weight kg(lb)

9770

14500

18790

24572

24791